Post by automatedTimeshift on Jun 29, 2016 21:27:14 GMT
"Yes, I'm forgetting all about restraint, common decency, and any pacifistic tendencies I may have had. Stop before I break your magic fingers!"
Sis --> Woo!
Michael: Oh I'm forgetting plenty.
Michael: Restraint? Never heard of it. Common decency? Doesn't ring a bell.
Michael: Any pacifist tendencies that I may have had prior to meeting you? Drawing a blank.
Michael: So why don't you stop before I break your magic fingers?
'Sis': Woot!~
(???): It's not magic, it's- ... why are you touching me? You're making me uncomfortable.
Michael: Oh
I'm
making
you
uncomfortable? Cute.
Michael: Let me ask you something. Why are you using your magic to hurt other people?
(???): ... Your continued defiance is not-
Michael:
WRONG ANSWER!
*CRACK!*
(???): GAH!
'Sis': Oh goodness...
(???): Hey! What was that for?!
Michael: For avoiding my question. Now I'll ask again, and I want a straight answer: Why are you using your magic for evil?
(???): It's
not
magic! And I'm
not
using it for evil! I'm
helping
her! It's for her own good! And frankly it'd be for your own good too!... if it worked.
Michael: What part of 'for our own good' involves having our memories erased?
'Sis': You broke the shower door...
(???):
Suppressed
, not erased. And because it's the only way to make sure nobody remembers anything that can be used against us.
Michael: So you did something you don't want us to know about.
(???):
No!
... maybe. But why do you care? You can't do anything about it.
Michael: If push comes to shove, yes I CAN and WILL.
(???): Don't make me laugh.
(???): Even if you manage to stop me with your... whatever you used, OR my colleagues, you'd fall at the hands of my boss. So don't think for a SECOND you have any power to stop us.
Michael: I don't think you're aware of what humans are capable of, little missy. Humans can be pretty resourceful.
(???): Well then Mr. Resourceful, tell me this: how exactly do you plan to take on my boss?
Michael: Like this.
WHAM!
(???): OW!!
(???): Ow...
Ooooooooooow!!!
That hurt! That
really
hurt!
(???): Why would you do that?! I didn't do anything to warrant being punched in the face!
Michael: But you were just-
(???): Telling you that you didn't stand a chance against my boss! What part about that makes me punch worthy?!
'Sis': Seriously? He couldn't have knicked you THAT hard.
'Sis': ! Is... that a bruise?
Michael: I think so...
Michael: (Alright, so apparently I'm unaware of my own strength. That's bad.)
Michael: (And I also made someone cry.)
(???): Ooooow. My faaaaace....
Michael: Uh... I'm sorry?
(???): No you're
not
! I know you're not!
Michael: ...
Michael: (Am I in the wrong here? Was what I did the right thing? I have no idea.)
Michael: (What am I going to do next?)
Author's Note (UPDATED AS OF 3/2/2017: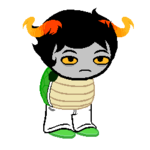 Maybe a MASTER PIECE OF... Mediocre... to above average? *Shrug* I was gonna say a masterpiece of garbage, but then I realized if anyone was reading this then it wouldn't exactly be that. I thank you for being interested in it, as well as everyone else!
DOUBLE AUTHOR'S NOTE:
This is one of the few pages that had its' dialogue completely rewritten instead of revised. Why? Mainly me trying to save parts of it only for it to completely go to garbage. Plus I feel like this is a better direction to take it.