Post by thedude3445 on Jun 11, 2016 4:18:28 GMT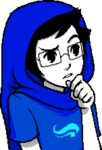 Oh man, ranking the albums is not very easy... I'll give it a shot anyway.
1. Act 7
2. Collide
3. Homestuck Volume 9
4. Symphony Impossible to Play
5. AlterniaBound
6. Homestuck Volume 1-4
7. Homestuck Volume 8
8. Homestuck Volume 5
9. coloUrs and mayhem: Universe B
10. coloUrs and mayhem: Universe A
11. Homestuck Volume 7
12. Homestuck Volume 6
13. Strife
14. One Year Older
15. Cherubim
16. Alternia
17. Midnight Crew: Drawing Dead
18. Mobius Trip and Hadron Kaleido
19. Song of Skaia
20. Squiddles
21. Genesis Frog
22. Medium
23. Prospit & Derse
24. The Wanderers
25. The Felt
26. Sburb
Haha, we have almost the opposite ranking for a couple of these albums. Still, it's not like I don't love them all anyway. They are my babies, if babies were intangible soundwaves that I have listened to many times.
Though my rabid Music Team love faded a little bit in 2014 and 2015 I noticed... so long without an album got my to branch out into stuff from Ubiktune, Battle of the Bits, MOD music, etc, but most of my non-Bowman Homestuck listening nowadays tends to come from playing several albums in a row while I'm on long car trips by myself (it's 4.5 to 6 hours to and from my family's home to my college's town so it's quite a bit). I imagine it might pick up a lot after Volume 10 is released, hopefully.
Also, better idea for that ranking (which I have slightly adjusted) is to divide it into tiers rather than precise numbers. This is getting way too OCD but just bear with me OK. Also I added the Gaiden Albums too I guess (except Beforus, which I haven't listened to enough times to judge; it's really long lol)
God Tier:
Mobius Trip & Hadron Kaleido
The Baby Is You
SS+ Tier:
One Year Older
Homestuck Vol 9
Cherubim
SS Tier:
Wanderers
Squiddles
Homestuck Vol 5
Homestuck Vol 1-4

Love it Tier 1:
Strife
Genesis Frog
A Plumbthroat Christmas
Homestuck Vol 6
Alternia
Love it Tier 2:
Homestuck Vol 8
Jailbreak
Homestuck Vol 7
Sburb
LOFAM 2
Great Tier:
Tomb of the Ancestors
Prospit & Derse
LOFAM 3
colours and mayhem A
Midnight Crew
Alterniabound
Sburb OST
colours and mayhem B
Medium
A Tier:
Collide
Song of Skaia
Homestuck for the Holidays
Symphony Impossible to Play
The Felt
B Tier:
LOFAM 1
Seer
Act 7