Post by NeverHere on Aug 19, 2019 22:33:36 GMT
Other than the minimization of Civilian Casualties, the Adamantium Pursuer's method of attack is and always will be decking Bec Noir in the schnoze in ever increasingly clever ways with any object he can get his hands on, as long as it does not increase Civilian Casualties. Just a note, since it'll be on its own while I take care of things here.
The meteor, about to be evicted from existing, is ignored by the BoB in favor of dealing with my submission for Quebec Noir's paperwork to legally be in the USA. His Free Canadian Health Care perk kicks in, allowing Quebec Noir to heal in between battles for free even though this is the USA because, as great as capitalism is, Canadian Healthcare is still that much better.
I, myself, call my parents, telling them I'm out helping some friends take care of something important. Don't want them worrying about my absence. What, can't a guy take a break to roleplay every once in a while?
...I notice Scatman's body is still there, and I spend the rest of the turn making a grave for him. Rest In Peace dude.
Nose punching noted.
Quebec Noir will now heal 10 HP in between every battle
You call your parents and some words happen! And then you bury Scatman....
May he rest in peace,
How to
kill and
dominance
be a pirate at
infuriate
intimidate
fulfil threat at
outlazorbweem
Ignore
show appreciation of
Bec Noir
a meteor
everything
The Adamantium Pursuer's method of attack:
Step one: appreciate
Step two: Point finger-guns at nearest representative of Pursuer
Step three:
The Pursuer feels very validated! He will fight much harder now.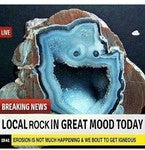 The Playing Card Golem manages to deal 30 damage to the meteor!
————————-
The Meteor is almost destroyed! Keep going!
Bec Noir and the Pursuer lunge at each other, and the Pursuer slams his elbows straight into Bec Noirs nose, dealing 5 damage! Angry and pissed off, he lets out an ear splitting howl that distracts the Pursuer, allowing him to send a green sun charged slash straight at his chest, piercing his chassis and dealing 10 damage! The two continue struggling into the next round....
Elsewhere on the Battlefield, a large flash of light suddenly...appears? Occurs? What's the right word for that? There's a large flash of light either way! A silver orb lies on the ground, emblazoned with the glowing blue letters "I.C". It suddenly opens up, revealing a normal young businessman with a brown briefcase. He smiles and begins walking up to the BoB....
METEOR
: 10/200 [TURNS UNTIL PLANETARY DESTRUCTION: 6]
Bec Noir
: 329/413
AWAY FROM BATTLEFIELDAdamantium Pursuer
: 140/150
AWAY FROM BATTLEFIELDQuebec Noir
: 65/100
Minecraft Steve
: 70/100
Bureaucracy of Bureaucracy
: 100/100